| | |
| --- | --- |
| Lesson 5 | Selecting a file system |
| Objective | Determine when to use NTFS/ FAT |
Selecting File System - NTFS or FAT during Setup
Question: How do I determine when to use NTFS or FAT during setup?
After you create the partition on which you will install Windows, Setup allows you to select the file system with which to format the partition. Windows supports the NTFS, FAT (technically known as FAT16), and FAT32 file systems. The following diagram summarizes when each system is most appropriate.
Selecting File System for Windows during Setup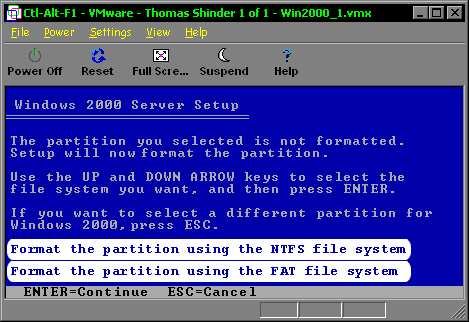 Server Roles
Server roles are designed to help you tune your server to perform a specific task or functionality without adding any unnecessary functionality or security risks to your server. You can set up your server as one of the following roles:
File Server: Enables Windows to share and manage files. With this role, you can use the NT File System (NTFS) to enable and manage disk usage quotas, set up the Indexing Service to index your files for faster searches, and search the content of files in various languages and formats.
Print Server: Enables your server to provide access to and management of printers on your network. You can manage your printers through Windows Management Instrumentation (WMI). This allows you to use a scripting language like VBScript to automate administrative functions on your printers, such as automatic printer mapping for clients, which can also be done from a web point-and-click interface that you set up on the print server. In addition, you can use a Uniform Resource Locator (URL) to print to printers that are set up on a print server.
Web Application Server: Enables the server that has Internet Information Services (IIS) 6 set up and configured to host web applications and services.
Mail Server: Allows you to provide Post Office Protocol 3 (POP3) services to your users.
Terminal Server: Allows you to remotely connect to your server with Terminal Services. Terminal Services can be used for either remote server administration or for serving terminal sessions to clients.
Remote Access/VPN Server: Enables you to set up routing and remote access to a variety of clients through Terminal Services, create custom networking solutions, and use persistent network connections that allow your users to stay connected to your server's resources during long sessions.
Domain Controller (Active Directory): Lets you maintain all of the logon information of the user , such as the login name and the groups in which a user belongs, and manages the communication between other domain controllers across your network.
NTFS
Use NTFS for partitions that require the elements shown in the following illustration: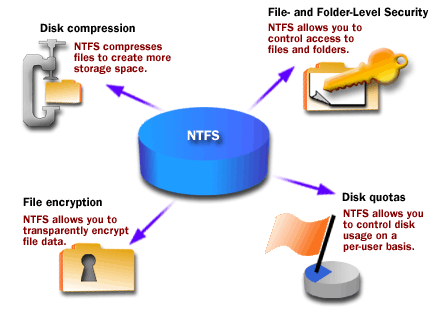 Windows and Windows NT are the only operating systems that can access data on a local hard disk that is formatted with NTFS.
You must take care when you choose to dual boot Windows NT 4.0 and Windows. Windows will upgrade existing NTFS partitions automatically to NTFS 5.0. If you have Windows NT 4.0 installed on the same computer in a dual-boot configuration, it will not be able to read NTFS 5.0 partitions, and if the boot partition for the Windows NT 4.0 installation is on an NTFS partition, you will not be able to start Windows NT 4.0. You can prevent this by installing Service Pack 4 or above in the Windows NT 4.0 installation before installing Windows.
FAT and FAT32
FAT and FAT32 are still used in some Windows Operating Systems. FAT, or File Allocation Table, is a file system that was first introduced in MS-DOS in 1981. It is a simple and reliable file system, but it has some limitations, such as a maximum file size of 4GB and a maximum partition size of 2TB. FAT32 is an improved version of FAT that was introduced in Windows 95. It has a maximum file size of 4GB and a maximum partition size of 32GB. FAT and FAT32 are still used in some Windows Operating Systems, such as Windows 10, for removable media such as USB drives and SD cards. They are also used in some embedded systems, such as routers and NAS devices. However, FAT and FAT32 are not recommended for use on internal hard drives, as they are not as efficient or secure as newer file systems such as NTFS and ReFS.
Normally, you would not format the partition on which Windows resides with FAT or FAT32 unless you require a dual-boot configuration, as illustrated in the image below.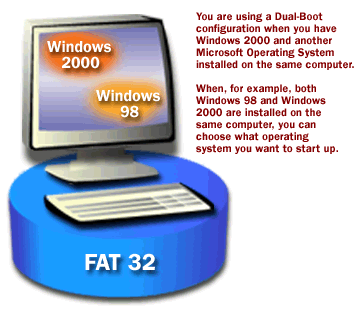 What is a dual-boot configuration?
A dual-boot configuration allows you to choose between two or more operating systems each time you restart the computer. When the operating system starts, a display appears for a specified number of seconds, allowing you to select between the operating systems.
Windows is a great boon to users who wish to dual boot machines that have Windows 95 or Windows 98 installed and have the primary active partition formatted as FAT32. Windows NT 4.0 does not support FAT32 and cannot be dual booted with operating systems that have the primary active partition formatted as FAT32. However, FAT and FAT32 do not offer the security features that NTFS provides.
If files are on an NTFS partition, security can be set for those files so that only a specific user can access them, and no one else.
If those files are on a FAT or FAT32 partition, you cannot secure those files locally (that is, you cannot restrict someone who is actually sitting at that computer from accessing them).
The Windows Setup program does not support partitions larger than 2 GB.
If you attempt to format a partition larger than 2 GB with FAT, Setup automatically formats the partition with FAT32.
In the next lesson, licensing mode selection will be discussed.