| | |
| --- | --- |
| Lesson 2 | TCP/IP and network security |
| Objective | Network security is affected at TCP/IP levels. |
TCP/IP and Network Security
Describe how network security is affected at the TCP/IP levels.
Internet and TCP/IP are often used synonymously. When the Internet's predecessor was first created in the 1960s, operational issues, not security, were the primary goal.
How is TCP/IP related to Network Security
The TCP/IP server has a default security of user ID with clear-text password. This means that, as the server is installed, inbound TCP/IP connection requests must have at least a clear-text password accompanying the user ID under which the server job is to run.
TCP/IP Protocol Layers
Security mechanisms are being "retrofitted" to work with existing networks and TCP/IP. An understanding of the the
TCP/IP protocol
is necessary for network security. The TCP/IP stack contains the following layers:
data link and physical
IP: An Internet protocol or IP address is a number that is used to uniquely identify computers connected to the Internet.
(ICMP)Internet Control Message Protocol: A protocol used to communicate errors or other conditions at the IP layer.
(TCP )Transmission Control Protocol/Internet Protocol (TCP/IP): A suite of protocols that turns information into blocks of information called packets. These are then sent across networks such as the Internet.
UDP (User Datagram Protocol): A connectionless protocol at the transport layer of the TCP/IP protocol stack, often used for broadcast-type protocols such as audio or video traffic.
and applications.
as shown in the diagram below.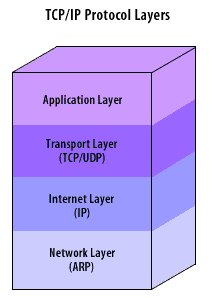 In the application layer, a client-side application is used to initiate communication with other hosts. The server-side uses transport layer ports to distinguish requests for various server applications.
TCP/IP Network Definitions

OSI model
The
International Standards Organization (ISO)
created a seven-layer networking model that is used to create a standard for network communications. The model is called the
Open Systems Interconnect (OSI)
reference model. The diagram below shows the correlation between the OSI model and the TCP/IP stack. In order to better understand TCP/IP, compare it to the OSI model.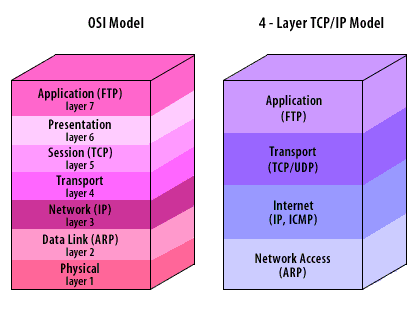 OSI Model contains 7 layers : Protocols apply to layers 2,3,5, and 7.

| Layer | Classification | Protocol |
| --- | --- | --- |
| 1 | Physcial |   |
| 2 | Data Link | (ARP) =Address Resolution Protocol |
| 3 | Network | (IP) = Internet Protocol |
| 4 | Transport |   |
| 5 | Session | (TCP)= Transfer Control Protocol |
| 6 | Presentation |   |
| 7 | Application | (FTP) = File Transport Protocol |
Physcial = Layer 1
(ARP) Data Link = Layer 2
(IP) Network = Layer 3
Transport = Layer 4
(TCP) Session = Layer 5
Presentation = Layer 6
(FTP) Application = Layer 7

The TPC/IP Model contains 4 layers.
(FTP) Application
(TCP/UDP) Transport
(IP, ICMP) Internet
(ARP) Network Access
Firewall Filters
To properly program firewall filters, the security administrator must have a deep understanding and knowledge of the IP and TCP/UDP layers of TCP/IP. An understanding of TCP/UDP ports is vital. Experienced hackers understand how to exploit network operations through the TCP/IP protocol stack.