| | |
| --- | --- |
| Lesson 9 | Activating a PPP connection |
| Objective | Use RP3 to activate a PPP Connection |
Use RP3 to activate a PPP Connection
Legacy Connection Information
Once you have configured your PPP connection, you need to activate the account. Red Hat Linux makes connecting to PPP dial-ups easy with the Red Hat PPP (RP3) Dialer. You can launch the Dialer either by typing rp3 at a command prompt or by choosing Internet and then RH PPP Dialer from the GNOME main menu.
When you wish to activate a PPP connection through the command line, type:
ifup ppp0

ifup activates all types of interfaces, including Ethernet and PPP devices.

Connecting
After you open the Red Hat PPP Dialer, simply select the account you wish to activate and click OK. Keep in mind that the RP3 Dialer refers to the name you gave to the account during configuration, not your username.
The RP3 monitor
RP3 provides a monitor for each interface it activates. The central features are two graphs that display the amount of data sent and received over time. At the bottom of the window, there are two statistics about your interface: a clock indicating the time the interface has been active and, below that, the current data transfer rate. In the example below, a Web page is being downloaded at approximately 2.7KB per second.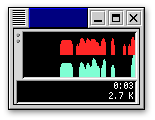 Linux OS Concepts